Father I Dont Want to Get Married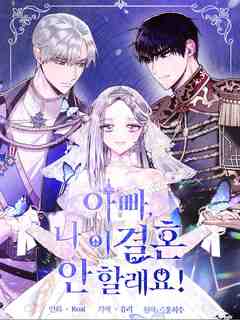 Author:

Hee-Su Hong

Genre:

Drama, Fantasy, Manhwa, Romance, Webtoons

Alternative:

Appa, Na I Gyeolhon An Hallaeyo!, 아빠, 나 이 결혼 안 할래요!

Description:

Juvelian is a villainess so hated by everyone that even her lover and father leave her to die a pitiful death. Just as she's about to face her fate, she gets the chance to change the course of her story. In order to avoid the tragic end she knows awaits her, she breaks up with her lover and gives up trying to win her father's love. Instead, she focuses on using his wealth to enjoy her new life to its fullest! But while she prepares for her extravagant life as a lady, her father begins looking for her new suitor. Afraid that he'll marry her off to the infamously unpredictable and stormy prince, she lands on a desperate solution: a dating contract. And the best candidate is none other than her father's student.
Father I Dont Want to Get Married manga latest releases
Popular manga